Triple Threat... The 1991 Braves Super Season
I think back about baseball pre-strike of 1994 and what it was like before steroids creeped onto the scene and I remember the pre-strike Atlanta Braves and the young dominant trio of pitchers they had and the decade long run they made through baseball and its postseason. I'm going to take a look into the 1991 season and the large imprint these three young men left on that season and magical run the Braves put together. The 1991 season was the first postseason appearance for the young and talented pitching staff Atlanta had been building and that would go on, along with a 1992 addition of Greg Maddux, to make the Braves a MLB postseason staple for years to come. Of those trio of pitchers (Tom Glavine, Steve Avery and John Smoltz) Steve Avery was the youngest and crashed onto the scene with a force during the early nineties.
Left handed pitching phenom Steve Avery was born in Michigan in April of 1970 and was a standout pitcher in high school who was selected in the MLB draft by the Atlanta Braves in June of 1988. Steve cruised through the minors and debuted for the Atlanta Braves on June 13, 1990 at the age of 20. He struggled a lot during that first season going 3-11 with a 5.64 ERA, but hit another gear during the 1991 season when he helped the Atlanta Braves became the first National League team to go from worst to first by winning the NL West and posting an 18-8 record and dropping his ERA to 3.38 for that season. Avery shined brightest though on baseball biggest stage, the playoffs, as he pitched brillantly against the Pittsburgh Pirates in two games, both 1-0 Braves victories, not allowing a run in sixteen and a third innings. Steve Avery would go on to be named MVP of the National League Championship series.
Right handed pitcher John Smoltz was born in Michigan on May 15, 1967. Unlike Avery and Glavine though, John wasn't drafted by Atlanta, but by Detroit after three seasons at Michigan State. Joh toiled in the minors a couple of seasons before fate would rear its head. In 1987, Detroit found themselves in a three team race for the AL East title and was in need of pitching help. Detroit chose to send their 20 year old prospect to the lowly Braves for aging veteran Doyle Alexander. John would go on to make his MLB debut for the Braves on July 23, 1988. John struggled much in his first season in the majors going 2-7 with a 5.48 ERA for the year. In 1989, John would improve greatly to go 12-11 and be named an All-Star with a 2.94 ERA in his second full season in the majors. John was a bright spot with a 14-11 record on a last place Braves team with a 3.85 ERA. In 1991, Joh lowered his ERA to 3.80, but saw his record drop to 14-13 as the Braves won the NL West. John Smoltz would shine in the postseason though as he would be the victor in games 3 and the series clinching 7 against the Pittsburgh Pirates.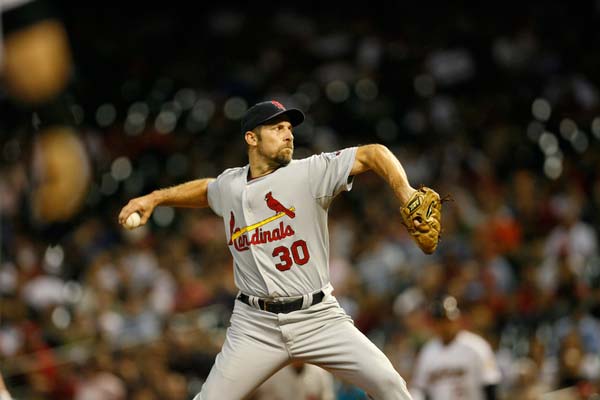 St. Louis Cardinals starting pitcher John Smoltz (30) pitches during the St. Louis Cardinals vs. Houston Astros baseball game at Minute Maid Park on Wednesday September 23, 2009 in Houston, Texas. Houston won 3-0.
---
Left hander Tom Glavine was a two sports star growing up in Massachusetts and was actually drafted in both the NHL and MLB drafts in 1984, but Tom chose baseball and signed with Atlanta. Tom made his major league debut with the Braves organization on August 17, 1987. Tom had growing pains during his first two years in the majors going a combined 9-21 during that stint on some bad Atlanta teams. Tom was able to figure things out and by 1991 was an National League All-Star with a 20-11 record and 2.55 ERA and Tom would go on to win the National League Cy Young Award for that season and was the ace pitcher of the Braves staff as they entered the postseason. Glavine would get the opening game start in the NLCS at Pittsburgh and would struggle in his first ever major league playoff game losing 5-1 against the Pirates. Tom bounced back at home in game five of the series and pitched an excellent game, but gave up one run and lost a 1-0 heartbreaker to Pirate pitcher Zane Smith. He would get another shot though as the Braves would go on to win games 6 and 7 and win the NLCS and face Minnesota in the 1991 World Series.
Buy This Allposters.com
The 1991 World Series is called by many the Greatest World Series ever played. While I am not going that far, I will say it has to be in the top five ever played. With a backdrop of such movies out like Terminator 2, Point Break and a young Michael J. Fox in Doc Hollywood, the 1991 World Series featured two teams that had climbed from last place the year before to first place this season. This series would go on to become famous for how grueling the entire series played out with 3 extra inning games (including a 12 inning, 4 hour marathon), 4 games decided in the final at-bat and 5 of the 7 games decided by just one run. Games one and two were played in Minneapolis at the Metrodome. Minnesota sent its ace and native son Jack Morris out to start the series and he was able to slow down the Braves bats and helped the Twins to jump start the series with a 5-2 victory and 1-0 series lead. Atlanta sent their ace to the mound, Tom Glavine, for game two of the series. Glavine pitched superbly and took a 2-2 ballgame into the bottom of the eighth inning where Twin Scott Leius drilled a solo shot into the left field stands in a 3-2 Twins victory and 2-0 series lead.
Game three was in Atlanta, where the Braves sent their young phenom Steve Avery, fresh off of being named NLCS MVP, to the mound. This game would go on to be known for the 12 innings and over 4 hour record length it took to be decided. Braves closer, Alejandro Pena, gave up a two run homer in the bottom of the eighth and blew a stellar performance by Steve Avery. Fortunately for the Braves and Pena, Atlanta's David Justice was able to single, steal second base, and then score off a Mark Lemke single with two outs in the bottom of the 12th inning for a Braves victory in the first ever World Series game played in the state of Georgia. The Braves cut the Twins series lead to 2-1 in the process.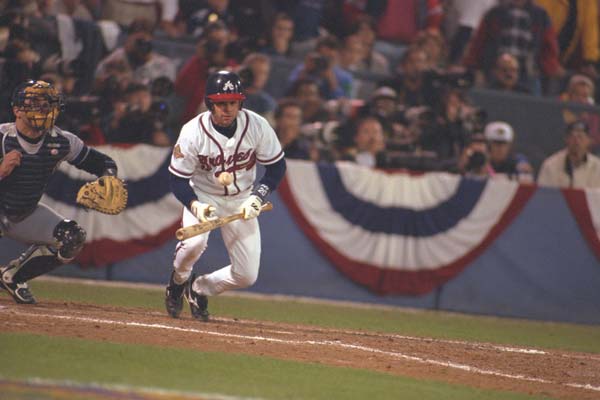 Atlanta Braves second baseman Mark Lemke laying down a bunt during game 5 of the World Series against the New York Yankees on October 25, 1996 in Atlanta. New York won the game 1-0. Mandatory Credit: Robert Seale/TSN/Icon SMIs
---
Games 4 featured Minnesota ace Jack Morris and Atlanta's John Smoltz. The pitchers both pitched good games and it was another classic, tightly played gamed with Morris handing over a 2-1 lead in the bottom of the seventh to Twins reliever Carl Willis. Brave Lonnie Smith would strike with a solo homer for Atlanta and send the game into the bottom of the ninth tied 2-2. One of Atlanta's game three heroes, Mark Lemke, would connect with a triple. Jerry Willard would come to the plate with one out and loft a fly ball to the outfield. Lemke would slide in just shy of the tag at home and the Braves would get another one run win and even the series at 2 games apiece.
The Braves sent out ace Tom Glavine for game 5 at home and Tom and the Braves offense would overpower the Twins for a 14-5 rout. It was the only blow out game of the series and ensured the Braves a 3-2 series lead heading back to Minnesota. Three Brave players smashed homers, including Lonnie Smith hitting his third one of the series, it was also Tom Glavine's first postseason victory.
Buy This Allposters.com
Atlanta sent Steve Avery back out to the mound on three days rest for game six. Minnesota would get to him early for two runs in the first inning. The game would eventually go to extra innings tied at three runs apiece. In the bottom of the eleventh, the Twins' Kirby Puckett launched a shot into the left-center-field stands for the walk-off victort and assuring the Twins a deciding seventh game the next night.
Game seven saw the Twins send ace Jack Morris to the mound for the third time in the series to once again face John Smoltz. Both pitcher pitched their hearts out sending the game into extra innings where Smoltz exited for Pena, but Morris refused to leavein a game where he would go on to throw 126 pitches. Morris shut down the side in the tenth which led to the bottom of the inning where Dan Gladden would score off a deep single to give the Twins a 1-0 victory and the 1991 World Series Championship.
This was a classic way for three pitchers that would each go on to wonderful careers. Steve Avery would conclude his career in 2003 with 96 wins and 980 strikeouts and a World Series ring. Tom Glavine would finish his career in 2008 with 305 wins, 2 Cy Young awards, 2,607 strikeouts, his jersey retired as well as a World Series ring. John Smoltz would finish his career with 213 wins as well as 154 saves, 3,084 strikeouts, a Cy Young award and a World Series ring. Greg Maddux would come into the fold the next season, but these three young men started the ball rolling for a Braves dynasty that lasted a decade strong run of National League titles and World Series appearances and included a 1995 World Championship.
Thanks to Ollie Walden, Senior Writer, The Best Baseball Blog for this article about the '91 Braves.
---
What do you think?

We'd love to hear your comments and/or opinions. If you submit them here, other visitors can read them, rate them and comment on them. An e-mail address is not required.
---
From 1991 Atlanta Braves Triple Threat to Major League Baseball Blog | Baseball Blog | MLB Articles | College Baseball Articles | Junior College Baseball | Minor League Baseball Blog | High School Baseball Blog | International Baseball Blog | Fantasy Baseball Blog | MLB Baseball Forum | College Baseball Forum | MLB Ticket Bargains | NCAA Baseball Tickets | MLB Baseball Apparel | College Baseball Apparel |
---
Home Page
About Us | Contact Us | Site Search | Advertise | Terms of Use |
---