Baseball Fan Violence after Dodgers - Giants Game
- By Ollie Walden
Enough is Enough…
Ok, we have all seen the headlines and the news reports on television and the updates that scroll across the bottom of the screen during games. What looked to be another stellar opening day for baseball was suddenly darkened and destroyed a few minutes after the conclusion of the Los Angeles Dodgers 2-1 home victory over the San Fransisco Giants on Thursday night.
Apparently, two Dodgers fans attacked three Giants fans, who were leaving the stadium following the end of the game thursday. One of the Giants fans, a 41 year old male, was struck in the back of the head causing him to fall and strike his head on the parking lot ground. Both attackers then kicked the victim, who suffered a head injury, and fled the area. The two other Giants fans were able to escape without harm, the third fan is currently in the hospital in critical condition. The police are urging witnesses to step forward with any information to help them identify the attackers.
Is this the fun, family filled environment that baseball is promoting? Most of the statements released are saying this is a one time incident and yes, I realize that it occurred after the game was over and outside the stadium. I just continue to ask myself, Would I want to buy some tickets and take my family to a game and risk something like this happening? I shouldn't have to worry about being physically attacked in the parking lot after I have spent my hard earned money and did nothing, but root for my team regardless if it was the home team or not. Shouldn't I be able to view the game and go home without having to worry about my own personal safety? Does this fall into the laps of baseball security or into the laps of the police? Tell me I am not crazy to ask these questions?
Is it the city of Los Angeles itself that is giving baseball this huge black eye right now? Police have reported some 25 arrests were made during opening day Thursday at the park. I thought that number was kind of high until I read that there were 132 arrests at the 2010 home opening for the Dodgers. I mean come on people, 132 arrests at one baseball game, really? That's an absurd number of arrests to have during a game. Sure, you are going to have people drinking and getting drunk. There will be your people scalping tickets and even parking violations, but when you have that many arrests at one game maybe, you need to look into how this is all being run. Maybe major league baseball and the police need to get together and develop a plan to cut that number down substantially. I wouldn't want to take my family to any event where there are that many arrests taking place.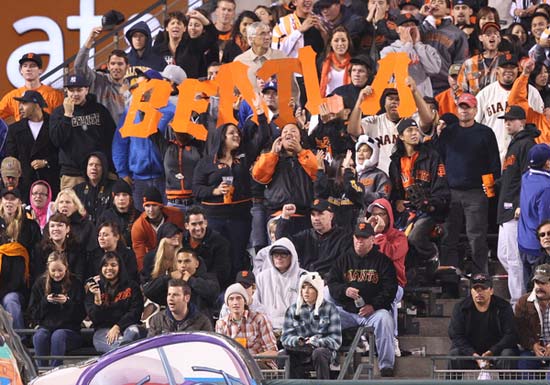 It was only two years ago in 2009 that on opening day at Dodger stadium, against the Giants as well, about 90 minutes after the game, a man was stabbed to death in the parking lot. That person was later found innocent due to self defense. It just seems that this is looking like way more than just mere coincedence to me. It has gotten to the point where fans safety is in question here and that needs to be answered. Baseball can't afford to be damaged like this and drug through the mud because it can't protect its own fans. You should be just as concerned about what takes place in your parking lots as you are about what happens inside the stadium. It would seem to me that you would want your fans to have a nice time and return over and over.
We, the fans, have supported your business and paid for your tickets and concessions. We have purchased your apparel and have spent countless hours viewing your sport on televisions around the world. We have packed your stadiums and it can't to be too much of us to ask, to be able to get our vehicles and leave safely. I do wish to state that I pray for the safe healing of this victim and I hope that the people that commited this selfish act are brought to justice quickly. Let us all not forget, without any fans there is no baseball.