Baseball's Most Underrated Players
- By Matt Green
Moneyball came out recently, and it taught us the importance of undervalued and underrated players. Every year, there are guys that, despite their abilities and stats, are undervalued and underappreciated for whatever reason. So, I will investigate some of the most underrated and nationally underappreciated players in all of baseball.
First, let's start with Carlos Ruiz. Ruiz is incredibly valuable to his Phillies team. First of all, the guy does NOT strike out. Ever. Every year since '08, except so far this year, he has had as many or more walks than strikeouts, a rare feat in today's game. He has never struck out more than 54 times in a season, and that was in 2010, when he drew 55 walks and hit .302. His durability has been key to the Phillies success. The fewest games he has played in a season since his first full season in 2007 is 107, and that was in 2009. For a catcher, that kind of durability is rare and incredibly valuable.
WAR is the stat that is used in baseball circles, but is often overlooked outside of baseball-talk. Wins Above Replacement is perhaps the most important stat of all, and Ruiz is about as good as it gets in that area. His breakout year came in 2009, and his year-by-year WAR since then has been 2.5 in '09, 3.9, 2.6, and is already 3.0 in 2012. In 7 total seasons at the MLB level, Ruiz has a .995 fielding percentage and has caught 27% of would-be base-stealers, not an overwhelming stat, but it's not underwhelming either. Ruiz does not get the credit he deserves on a national level, but there aren't many guys as valuable as Carlos.
Next is a young guy, Brett Lawrie. He's just 22, but still doesn't get the appreciation he deserves. Power hitting corner infielders are a valuable commodity in themselves, and in the case of Brett Lawrie, even more valuable, as he is a future all-star and, MVP, anyone? In a small sample size in 2011, he hit a shocking .293 as a 21-year old, with a .373 OBP and an OPS upwards of .960. In just 43 games in 2011, Lawrie accumulated a WAR of 3.5, an absurd number for such a short season. In 2012, he's on pace for and even higher number, with his WAR sitting at 3.4 through 59 games. His OPS is down a good bit, but so are his strikeouts. It's just a matter of time before that power stroke returns and his slugging numbers help his OPS get back to where they were, but even with the numbers he has now, Brett Lawrie does not get the love nationally that a power-hitting, offensively great third-baseman should receive.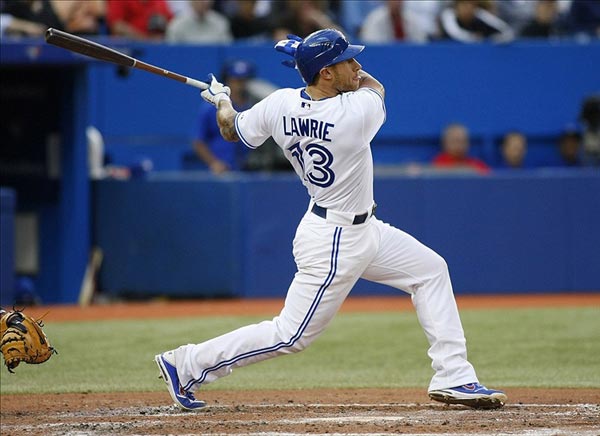 May 30, 2012; Toronto, ON, CANADA: Toronto Blue Jays third baseman Brett Lawrie (13) hits a home run against the Baltimore Orioles in the fourth inning at the Rogers Centre. Photo Courtesy By: John E. Sokolowski-US PRESSWIRE.
---
Finally, there must always be a pitcher included, and for our purposes, it's Miami's Mark Buerhle. He spent the first 12 seasons of his career with Chicago, and ever since his first season as a starter in 2001, he started 30 games or more and has never thrown fewer than 200 innings. His LOWEST WAR since 2001, was 2.0. LOWEST. His highest rose as high as 5.9. His highest ERA as a starter was 4.28, and he spent the first 12 years of his career in the American league, which is, obviously, considered a more difficult league for pitchers due to the DH rule. He never walked more than 61 guys in a season, and, as a starter, his walks never rose higher than 2.4 BB per 9 innings. He's not a strikeout master, but he is a control master. It's the durability and consistency that puts Mark Buehrle on this list. The ability for a pitcher to throw over 200 innings for 11 straight years in almost unheard of in this day and age.
That's the list of the 3 most underrated players in baseball. Sure, they may get some love within their fan bases and from some smart media members, but be honest, these guys rarely get consistent and deserved love from the national media. Underrated is a great thing, and I'm sure these guys wouldn't have it any other way.
Check out totalprosports.com's Underrated List: http://www.totalprosports.com/2012/04/02/9-seriously-underrated-baseball-players-2012-edition/#10