Boston Red Sox Ready To Rebuild After Blockbuster Deal
- By Jake Brown
Saturday, the biggest blockbuster deal to ever go down in the month of August actually happened. It was a trade that will change the future direction of both the Los Angeles Dodgers and the Boston Red Sox. The nine-player trade saw over a quarter billion dollars in remaining contracts fall in the laps of the Dodgers. Los Angeles acquired All Star first baseman Adrian Gonzalez, outfielder Carl Crawford, pitcher Josh Beckett, and infielder Nick Punto. The Red Sox get first baseman James Loney, top pitching prospects Allen Webster and Rubby De La Rosa, and hitting prospects Jerry Sands and Ivan DeJesus.
It's funny how things can change so quickly. Just a year ago the Dodgers were in bankruptcy, and now they take on a combined $262.5 million in remaining contracts. The deal marks the biggest salary dump in the history of professional sports. The Red Sox will head in a new direction after failing to reach the playoffs since 2008 with this year going the same way. The Red Sox are just 61-67 and 13.5 games back in the AL East and nine games back in the AL Wild Card. It has been a tumultuous season for a team that has all sorts of drama on and off the field being led by manager Bobby Valentine. It has been a truly underachieving year for the Red Sox who have stolen the headlines in Boston for all the wrong reasons.
The Red Sox got what they wanted in this mega-trade. They got rid of the huge contracts of Gonzalez, Crawford, and Beckett. Gonzalez is the toughest loss of the big three contracts putting up very impressive numbers once again this season. Boston has no problem with getting rid of Josh Beckett's contract. It has been Beckett's worst season of his career. He is just 5-11 this season with a 5.23 ERA. Fans in Boston have been waiting for months for them to get rid of Beckett for months and their wishes finally came true.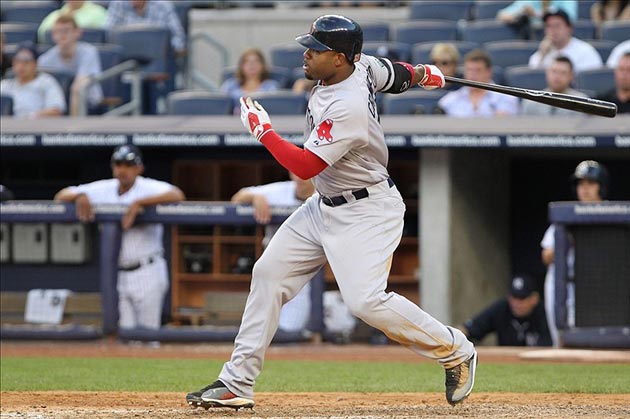 ---
Crawford has underachieved as well in his time with the Red Sox with injuries being a major factor. Crawford has missed more than half the season due to injury and will miss the rest of this season and some of next season recovering from elbow surgery. So Beckett has been horrific and Crawford will not be back until later next season. So essentially the Red Sox get to dump all of that money with the only star leaving them being Adrian Gonzalez. Many look at this as win for the Red Sox, who need to head on a new path after the mediocrity they have put together in the last three seasons.
Dumping all these monster size contracts gives them a little bit of breathing room for the future and gave them some financial freedom. They also get some good prospects in the deal that will help them in the long run. They get James Loney who will replace Gonzalez at first base for the remainder of this season and possibly next season. The Red Sox got rid of a quarter billion dollars of contracts while getting younger and building for the future. Have to give a hat tip to Red Sox management for being able to get this deal done.
For the Dodgers, they may regret this trade in a couple of years. With that being said, right now the Dodgers have to become favorites to win the National League this season. Adding Hanley Ramirez, Shane Victorino, and Adrian Gonzalez to their lineup was just what they needed to give them a chance at a World Series title this season. Also, a change of scenery may have been best for Josh Beckett. We might see a revitalized Beckett, who just after being traded made a Twitter account. Carl Crawford won't play a role this season and most of next year, but could be a part of the Dodgers future as well. The Dodgers are the potential World Series winners with this trade, but the Red Sox are the overall winner of the trade by getting rid of an absurd amount of money.