Brandon Phillips Biography
Cincinnati Red player Brandon Phillips isn't your typical second baseman. He practices Yoga and Tae Kwon Do, chats with fans on Twitter and plays baseball with an attitude. He is the new post steroid star that the league needs. Pitching has begun dominating the league since the steroid era has gone away and the new offensive athletes that are succeeding against todays pitching are bringing an attitude with them. Brandon will trash talk when he has to and he will run you over if you are blocking home plate. He brings a certain flare with him and he isn't intimidated by todays dominate pitching staffs. He is just as good on defense, showing that by winning his second gold glove last year, and he was selected to his first All Star game in 2010.
Todays Major League star brings attitude and grit with them to the batters box as opposed to just overwhelming power from years past. Brandon did have to pay his dues to get to the bigs and wasn't an overnight sensation like some major league athletes. Brandon turned on the switch at just the right time after struggling for his first few years trying to just win an everyday roster spot in the majors.
Brandon Phillips grew up in Stone Mountain, Georgia as the son of James and Lue Phillips. His father was a football and baseball athlete at Shaw University in North Carolina where Brandond mother, Lue played softball and basketball. You can say sports has always been a part of his life as his older brother, Jamil is a baseball instructor in Kansas and his younger brother, P.J. was drafted and is currently in the Angels system. Brandon's little sister Porsha played basketball at Georgia and was drafted to the WNBA in 2011 so, sports is a way of life in the Phillips family.
James Phillips and Lue run the Phillips Baseball Center in Pine Lake when not attending their kids games. Brandon attended Redan High School in Stone Mountain and was a star for the baseball team where he had his #7 jersey retired in December 2003. He signed a letter of intent to play for the University of Georgia out of high school, but was drafted in the second round by the Montreal Expos in the 1999 MLB draft. Brandon decided to forgo college and signed with the Expos on June 21, 1999.
Brandon spent three seasons in the minors before the Expos traded him along with left-handed pitcher Cliff Lee and Outfielder Grady Sizemore and First Baseman Lee Stevens to the Cleveland Indians for Right-handed pitchers Bartolo Colon and Tim Drew. Brandon seemed to be an after though in that trade, but was able to thrive in the Indians minor league system, even being selected to the Triple-A All Star game in 2005, while playing for the Buffalo Bisons. Brandon seemed to struggle every time he was called up to Cleveland for a period of time and eventually the Indians lost patience with developing Brandon and traded him at the beginning of the 2006 season to the Cincinnati Reds for right-handed pitcher Jeff Stevens.
This seemed to be the move that Brandon needed as he flourished in Cincinnati, while immediately filling the Reds need at second base at the time, he has went on to become an All-Star second baseman as well as lead the Reds to the postseason for the first time in years and has won two Gold Gloves in his time in Cincinnati. Brandon is also well known for his teams bench clearing incident against the Cardinals last season that started when Brandon and Cardinals catcher Yadier Molina began shouting and shoving one another at home plate during Brandons plate appearance. The incident backed up Brandon's attitude of never backing down from anyone, anytime, anywhere.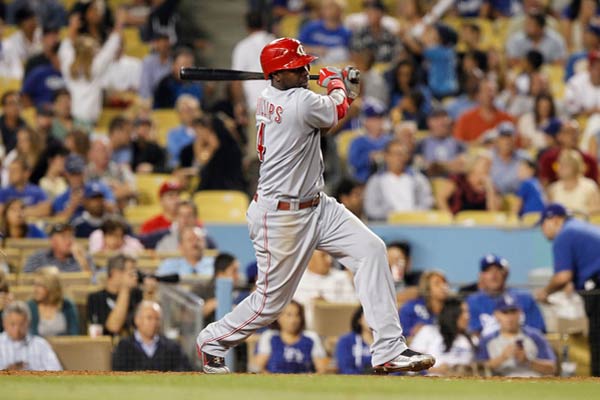 2011 has become a very critical year for Brandon has he will become a free agent at the end of the season. I'm sure the Reds are considering ways to resign him and keep him a Red for a long time, but being a smaller market team, they could have trouble fending off the Big Market teams that will come calling at season end. Brandon also started a TWITTER account back in February of 2011 and in just a few short months already has over 30,000 followers. He mostly tweets about places he likes to eat and what he is up to in his daily life. He is also known to give away certain personal items (game used gloves, cleats and such) as his following grows.
Fans seem to flock to Brandon and really admire the grit and determination he brings to the game. He is well loved in Cincinnati and he is usually targeted by rival fans when playing on the road. St. Louis fans boo him every chance they seem to get when the Reds are in town. None of this seems to faze Brandon as he is off to his best season yet in Cincinnati this year at the play and is playing great defense too. Brandon seems to love all the attention as much as baseball fans seem to love his game.