Breaking Down the Return of Andy Pettitte
- By Troy Patterson
When Andy Pettitte signed with the Yankees this offseason it was considered a good will gesture and that it was unlikely he would throw any innings for the big league team. The Back end of the rotation was unable to contribute though and Freddy Garcia was removed from the rotation after 4 starts. Pettitte was given a shot and things couldn't have gone better for the 40-year-old pitcher.
Among Yankees starters Pettitte has the best ERA, the second best K/9, the best BB/9 and the best ground ball rate. Only CC Sabathia has been close to Pettitte and even he hasn't been better during the 2012 season. Pettitte has even thrown 34.2 of his innings in Yankee Stadium.
Some things that are sure to regress are his ground ball rate, which is 10 percentage points higher than his career level. He also hasn't struck out batters like this since 2004 when he pitched only 83 innings. His career rate is 6.66, which is much lower than the 8.64 he has this season.
His velocity is way down this season as well making these changes very questionable going forward. His velocity is down from 89 mph to 87.5 and his cutter has dropped nearly 3 mph. The curve and change have also dropped 2 mph each.
According to Brooksbaseball.net it looks like Pettitte is also throwing a slider for the first time. Now the slider is very similar to his cutter and could just be a classification, but with a slightly lower velocity this could be a new pitch for Pettitte. He has thrown 24 of these so far or 4 percent.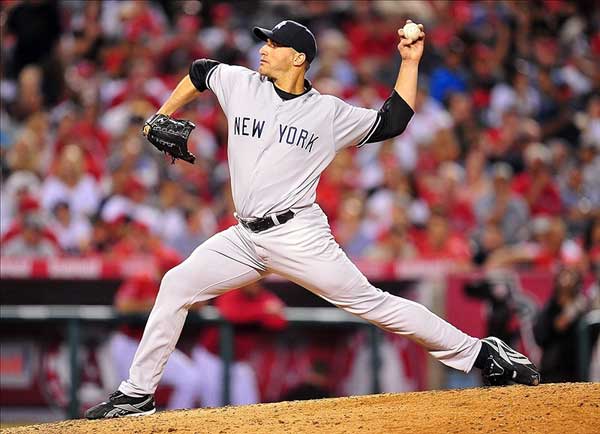 May 29, 2012; Anaheim, CA, USA: New York Yankees starting pitcher Andy Pettitte (46) pitches in the fourth inning against the Los Angeles Angels at Angel Stadium. Photo Courtesy By: Gary A. Vasquez-US PRESSWIRE
---
While his velocity and pitch selection is new in 2012 it looks like his mechanics are just like when he left. Here at Stirring the Straw they saw his release point was right on with his 2010 data before retiring.
The plate discipline has every factor going in Pettitte's favor, which has to question how real everything is. Hitters are swinging at pitches in and out of the zone and making less contact on both. This should regress to the mean or even worse with the slower velocity. He'll still be effective in that scenario, but not the best Yankees pitcher.
Based on the ZiPs model Pettitte would struggle for the remainder of 2012. His K/9 would fall to 6.63 and his BB/9 would rise to 3.43. His ERA would be at 4.38 in 76 innings pitched. That would have him finish 2012 with 117.7 innings and an ERA of 3.82. The Yankees would be happy with that out of the pitcher they had no plans on needing this season.
I think the ZiPs projection is a bit harsh and while the current numbers are way over his head the high walk rate for the rest of the year seams high as well. Look for something in the middle and well worth the $2.5 million the Yankees are paying him this season.