Chicago Cubs: Why Alfonso Soriano will be traded in the offseason
- By Jason Fryer
The 2012 Trade Deadline has passed and Alfonso Soriano is still a member of the Chicago Cubs. With that said, this past Trade Deadline was the first time Soriano's name was mentioned in legitimate trade rumors since the 2006 MLB Trade Deadline when he was a member of the Washington Nationals.
So why will the Cubs trade Soriano before the start of the 2013 season? 3 Reasons:
1) Soriano has shown that he still has something left in the tank: Quietly, Alfonso Soriano has put together a strong 2012 season on the North Side hitting .270 with 19 HR and 64 RBI on the year. For any other player, those stats would equate to a productive season however, because his first 2012 Home Run came on May 15th, it shows that had Soriano hit a few Home Runs in the month and a half of the season, he could have been in the top 10 for Home Runs on the season. To put this into perspective, Soriano has hit 19 Home Runs in his last 70 games while Home Run Leader (Adam Dunn) has 31 HR's since Opening Day. Because of this, I feel Soriano has a few quality year left in him as he can be a productive player to a number of lineups. With that said Soriano's has a one problem: he struggles to playing in the field which I feel limits him to only American League team. This leads me to my second reason why I feel Alfonso Soriano will be traded...
2) A number of American League teams need to upgrade from their current DH: There's a handful of teams that feature quality DH's...and a number of teams that need to trade for a player of Soriano's skill set.
Here's a list of Teams that don't need to upgrade from their current DH: Chicago White Sox (Adam Dunn), Detroit Tigers (Victor Martinez), Kansas City Royals (Billy Butler), Boston Red Sox (David Ortiz), and Los Angeles Angels of Anaheim (Kendrys Morales if they decide to not trade him to a team that needs a first baseman).
So that takes 5 teams off the list, what about the other 10 AL Teams (remember Houston will be moving to the American League starting in 2013). In the past, Soriano has said he doesn't want to play for a West Coast team which eliminates three AL Teams: Oakland, Los Angeles Angels (even though he said he would play for the Dodgers so I feel he'd add them to his list), and Seattle. In addition to that, I'm not sure the Texas Rangers or New York Yankees need him on their roster as both teams already feature strong lineups while already having a significant amount of older players on their respective rosters: Derek Jeter (38), Alex Rodriguez (37), Mark Teixeira (32) for the Yankees and Michael Young (35), Adrian Beltre (33), Nelson Cruz (32), and possibly Josh Hamilton (31) if they resign him. Lastly, a few other teams won't be interested in acquiring Soriano as these teams would look to either rebuild (Astros) or play the younger players in their Farm System (Blue Jays). After taking 11 American League teams, there's 4 realistic options left for Alfonso Soriano to be traded to during the offseason.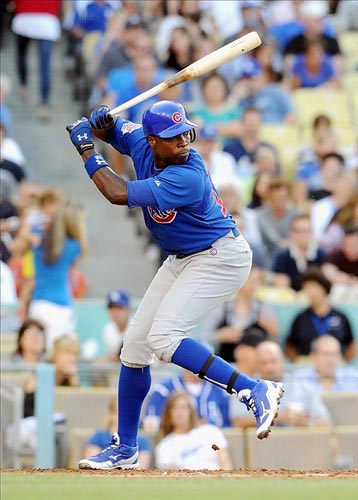 Below are the four realistic trade options for Alfonso Soriano:
Minnesota Twins: I believe there's a realistic landing spot for Soriano because I think the Twins will look to trade Justin Morneau (if he passes his physical) during the offseason to a team that needs a quality First Baseman. In addition to that, I also feel Minnesota will look to play Joe Mauer at First which will force them to acquire an additional quality bat in their lineup... enter Soriano. Alfonso would give them the DH they've been looking for since deciding to let David Ortiz leave over a decade ago.
Cleveland Indians: Cleveland has a number of quality bats in their lineup: (Carlos Santana, Asdrubal Cabrera, Jason Kipnis, and Michael Brantley) but might have a hole at DH as Travis Hafner's scheduled to be a Free Agent following the 2012 season. The Indians are a possible landing spot for Soriano as a trade here would allow for him to stay in the Midwest and would give this team an additional bat they've been missing.
Baltimore Orioles: Outside of the Angles (if they decided to trade Kendrys Morales), I feel the Orioles are the most likely team to trade for Soriano. Baltimore has a few key impact hitter's on their roster in Adam Jones, Matt Wieters, and top prospect Manny Machado. That's a nice start, but I still feel the O's are missing at least one more additional power bat in their lineup, and that's where Soriano would fit in. With his power bat added to their lineup, I feel the Orioles would be provided an additional dimension to their lineup.
Tampa Bay Rays: The Rays have a number of quality hitters on their roster in Evan Longoria, Desmond Jennings, and Matt Joyce. Like division rival Baltimore, Tampa Bay's lineup's includes three quality bats but they still need to add additional depth to fill out the rest of their lineup. Soriano sounds like a good option for the Rays but there's one key problem with this situation... Manager Joe Maddon likes having a rotating DH so Soriano would have to play he field a few time a week. If Soriano and the Rays both feel he's able to play the field a few times a week, then this would become a realistic option for the Rays and would provide them the bat there currently looking for.
And finally, the third reason and final reason I feel October 3rd, 2012 will be Alfonso Soriano's last game as a Chicago Cub:
3) The Cubs will look to take on the majority of his contract: During the past week, the Cubs made it clear they want to see what's in their Farm System by playing Anthony Rizzo, Starlin Castro, Brett Jackson, and Josh Vitters everyday.
Below are the 5 most likely teams to trade for Alfonso Soriano:
Baltimore Orioles
Minnesota Twins
Cleveland Indians
Tampa Bay Rays
Los Angeles Angeles