Eddie Murray Biography
- By Ollie Walden
Let me begin by telling you about a Major League Baseball player that refused to speak to the media. Lets just say that he was a very gifted player that would win the American League rookie of the year award in his first season. What if I told you he was selected to play in eight All-Star games and won three gold gloves at his position. Would you think that player would exist? You would have heard of him before, right? Well, he did exist in a playing career that spanned from 1977 through 1997. The player I am speaking of is Eddie Murray.
Eddie Murray, or Steady Eddie has he was known during his career was a first baseman for the Baltimore Orioles for twelve seasons and spent some seasons with the Dodgers, Mets, Angels and Indians later in his playing career. To understand Eddie Murray, you have to realize that he came up in a different era of baseball. Steady Eddie came up with the Cal Ripken, George Brett, Mike Schmidt and Mr. October Reggie Jackson era of baseball. Players didn't move around much back then, like they do now, you pretty much played the bulk of your career with one team in those days. This fact was true for Murray as well as he spent his first twelve major league seasons with the Baltimore Orioles including eight years when he played along side Cal Ripken Jr.
Eddie Clarence Murray was drafted by the Baltimore Orioles in the 1973 MLB draft and toiled in the minors for parts of three seasons before crashing on the Major League scene in 1977. Eddie was a 6 foot 2 inch, 190 pound switch hitting terror that would go on to earn AL rookie of the year honors after crushing 27 homers and driving in 88 runs in his first season. In 1978, he again blasted 27 homers while driving in 95 runs and being selected to his first All-Star game. Eddie would drive in 99 runs the next season and lead his team into the World Series at just 23 years old, where they fell to the Pittsburgh Pirates in seven games.
A writer wrote an article during the playoffs, that Eddie took offense to, that led to Eddie refusing to speak to the media. Over the rest of his career, besides a few interviews here and there, Eddie stuck to his notion to not speak to the media. While today, that could seriously dampen a players reputation, Eddie's career was unfazed by his refusal to speak out publicly. Even though he didn't care for the media much, Eddie was well known to be a very good teammate and clubhouse guy.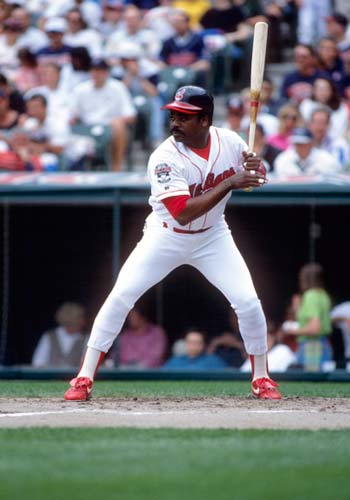 Eddie's play continued to rise, but he was unable to get his team back into the World Series until a young player named Cal Ripken Jr. arrived in 1981 and by 1983 Eddie and Cal led the Baltimore Orioles back to the World Series against the Philadelphia Phillies. Eddie was an All-Star and won his second straight Golden Glove as well as a Silver Slugger and was the runner-up for AL MVP, but the World Series had eluded his grasp. Steady Eddie blasted two homers in the series against the Philadelphia Phillies and Baltimore captured the championship in just five games. Eddie Murray now had a World Series title to go with his numerous awards in his career. Eddie would play five more seasons for the Orioles, but they never got back into the playoffs.
Eddie would spend five seasons in the National League from 1989 through 1993 where he was selected to his final All-Star game while with the Dodgers in 1991. Steady Eddie, for which he was known for his Steady play and leadership during his career, made his way back into the American League in 1994 as a member of the Cleveland Indians and in 1995 Eddie found himself as a veteran leader for a young and talented Indian team that made its way into the World Series against the Atlanta Braves. This was Eddie's first trip back into the playoffs in twelve years since he led Baltimore to the World Series title in 1983.
Eddie was playing mostly at DH for the Indians and after beating Boston and Seattle in the playoffs, the young Indians fell to the Braves in six games although Eddie did hit a homer in the series against the Braves. Eddie would be back with Baltimore in 1996 and the Orioles would make the postseason and beat the Indians, but they fell to the New York Yankees in the ALCS.
Eddie Murray would go on to retire after the following season in 1997 as a Los Angeles Dodger and he eventually would go on to be elected to the Hall of Fame in 2003. Eddie gave a great speech at his induction which shed some light on a man that rarely had spoken to the media during his playing career. Steady Eddie's number 33 Oriole jersey would be retired in Baltimore. Eddie Murray would go into the Hall of Fame with 504 home runs and over 3,000 hits and 1,917 runs batted in. Steady Eddie finished his career with a .287 batting average and will be forever known as the quiet champion that he was.