Edgar Martinez Biography
Edgar Martinez was a player that was used almost entirely has a designated hitter throughout his entire career. He is so attached to the role that, in 2004, Major League Baseball named the Outstanding Designated Hitter Award in his honor. Edgar was a five time winner of that award throughout his career and now satnds as one of only five Major League players with an award named after them. Edgar has quite a legacy with the Seattle Mariners, the team he spent his entire 18 year career with. After his retirement in 2004, part of S. Atlantic Street in Seattle was renamed Edgar Martinez Drive. The Mariners have not issued anyone his #11 jersey since his retirement. Edgar was inducted into the Seattle Mariners Hall of Fame in 2007 and received 36% of voting when named on the Hall Of Fame ballot in 2010.
Edgar Martinez was a seven time All-Star game selection as well as a five time Silver Slugger award winner. He finished his career with a .312 career batting average and also tallied over 2,000 hits and 1,000 runs batted in as well as 309 home runs. Edgar originally began his career with Seattle as a third baseman where he won an American League batting title in 1992 but, Edgar tore his hamstring during an exhibition game before the 1993 season and never completely recovered from the injury. Edgar missed the entire 1994 season from injury and competed strictly as a designtaed hitter from 1995 through the rest of his career. Edgar has the sole honor of being the only full time designated hitter to date to win a batting title, a feat he accomplished during the 1995 season.
It was during Edgar's first trip to the playoffs, at age 32, that he completed the play that he would become reknown for in Seattle and what many Mariners fans refer to only as "The Double". His performance in the 1995 American League division series is quite an awesome feat in itself as Edgar batted .571 for the five game series and had 12 hits in his 21 at bats that also included 6 walks. He reached base 18 times in the five games and had 10 runs batted in, but the play he became famous for occurred in game five with the series knotted at 2 games apiece. Edgar came to bat with the Mariners down 5-4 in the bottom of the 11th inning. Edgar would blast a two run double that won the game and the series for Seattle sending the Mariners to their first ever American League Championship Series, where they eventually fell to the Cleveland Indians in six games.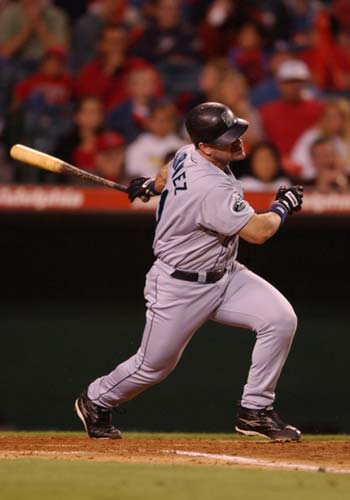 Edgar Martinez played the majority of his 18 year career with Seattle under the management of Lou Pinella, who led the Mariners for ten of the years Edgar played there. Edgar also had the honor of playing alongside several outstanding players during his career which included the likes of A-rod, Ichiro Suzuki and Rickey Henderson. Edgar was also able to spend a large portion of his career, eight to ten years, in Seattle playing with Ken Griffey Jr., Randy Johnson and Jamie Moyer. Edgar along with his teammates made up the nucleus of some outstanding Seattle Mariners teams throughout the years.
Edgar Martinez was a huge fan favorite, playing his entire 18 year career in Seattle and always be willing to stay long after games to sign autographs for fans. Edgar has also been honored for spending countless hours and funds towards the Children's Hospital and Regional Medical Center in Seattle, including the Edgar Martinez Endowment for Muscular Dystrophy Research. Edgar has also supported many other charities like the United Way, Make-a-wish foundation, Big Brothers & Big Sisters and the Boys and Girls Club of America as well as many others.
Edgar currently lives in Bellevue, Washington with his wife, Holli and their three children. He runs Branded Solutions by Edgar Martinez, a byproduct of his family's embroidery business, in Kirkland, Washington. Edgar Martinez will forever be remembered as the player that help provide the way for the Seattle Mariners offensive explosion during the nineties and lead the team to its first ever ALCS and for providing the designated hitter position with an entirely new meaning.