Former MLB Sports Star Mark Mulder Signs With Angels in Comeback
By Aaron Sass
While many of us were celebrating the new year on new year's day, former American League Cy Young candidate Mark Mulder was celebrating something else, as he signed a contract to play for the Los Angeles Angels, according to ESPN.
Mulder, who's 36, hasn't thrown a pitch in the major leagues since 2008, and he begrudgingly retired in 2010 when the injuries started to pile up. He last threw a major league pitch on July 9th, 2008 while he was playing for the St. Louis Cardinals.
In late 2013 it was announced that Mulder would be attempting a comeback. He got himself into shape, and in November three major league teams went to watch him throw. His pitches were reaching 90 MPH. You can consider betting on his future success at Sports Betting Dime.
From 2000 to 2004, Mulder was a part of the Oakland A's big three alongside Barry Zito and Tim Hudson. After leaving Oakland in 2005, Mulder had one successful season with St. Louis as he went 16-8, had a 3.64 ERA, pitched 2 shutouts, and had 111 strikeouts.
In 2006, the injuries began. Over the next three seasons Mulder would only appear in 23 games, starting 21 of them, and only pitching 106 innings, which were just over half the amount of innings that he had pitched in 2005.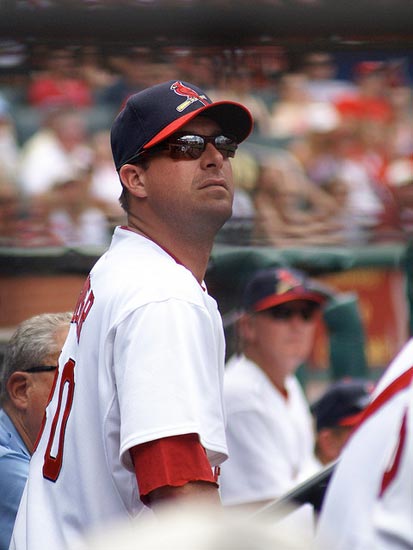 When commenting about his comeback attempt Mulder said "If it doesn't work, so be it. As of now, how I feel and the ball coming out of my hand I'm excited." It seems as though he's taking the "why not?" approach to his comeback, not really knowing what to expect.
People seem to be counting Mulder out because of his age, but there's been plenty of pitchers over the age of 35 that have done well. Of course, most of those pitchers haven't had the shoulder problems that Mulder has had. Regardless of that, age shouldn't be much of a factor here.
Whether he fails or whether he succeeds, Mark Mulder's comeback story is one of the most intriguing stories of the upcoming MLB season, and it's one that I'll be watching closely.