Grading the NFL Draft and Rating it Against Baseball's Draft
- By Bryan Knowles
The 2014 NFL Draft is in the books. After three days and 256 picks, we finally can start looking ahead to the 2015 NFL Draft.
Unlike in baseball, where there are nearly forty rounds, top picks are rarely seen in Major League Baseball for several years after draft day, and the drafted players are totally irrelevant to fantasy baseball and any daily fantasy baseball guide, the NFL draft is about immediate results from ready players.
Or maybe to the professional football season in between those two events. Whichever floats your boat.
In all seriousness, while the act of grading a draft class before a single player has taken a snap is a flawed exercise, it remains a fact that some teams seemed to have done a better job maximizing the value of their picks and filling their needs than others. Here are the three teams that did the best job filling holes, and the three teams that didn't have a great 72 hours.
Cleveland Browns
8. Justin Gilbert, CB, Oklahoma State
22. Johnny Manziel, QB, Texas A&M
35. Joel Bitonio, OT/G, Nevada
71. Christian Kirksey, LB, Iowa
94. Terrence West, RB, Towson
127. Pierre Desir, CB, Lindenwood
We'll start with one of the more controversial drafts. After news broke on Day 2 that Josh Gordon was possibly facing a year-long suspension, everyone expected Cleveland to take one of the receivers available in a deep class. The lack of receiver taken has caused many people to naysay the Browns draft class, wondering if they've filled their biggest need.
That's judging the draft based on one position, and ignoring all that's positive here. Obviously, Johnny Manziel is a divisive prospect, but getting a potential quarterback of the future at No. 22 is an outright steal. No, the Browns haven't had much luck with their first round quarterbacks—see Brandon Weeden, Brady Quinn and Tim Couch—but the price was more than right on Manziel.
To him, they added arguably the best cornerback available in the draft in Justin Gilbert. Putting him next to Joe Haden suddenly makes passing a dangerous bet against Cleveland. Terrence West and Pierre Desir are steals in the third and fourth rounds, and could both be starters within a few years. Joel Bitonio might be the best pick in their draft; I had him as a first-round selection. The Browns have changed the face of their franchise, and with only six picks, they did a remarkable job.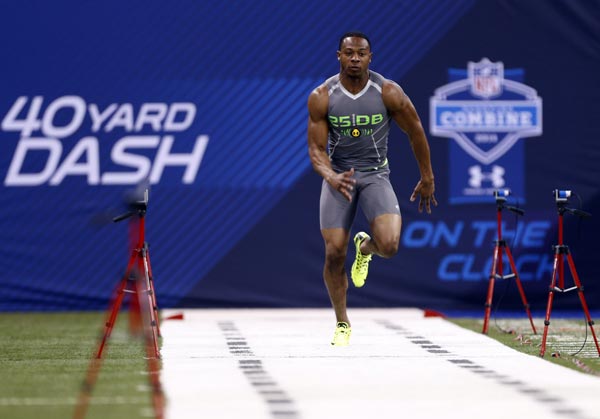 Green Bay Packers
21. Ha Ha Clinton-Dix, S, Alabama
53. Davante Adams, WR, Fresno State
85. Khyri Thompson, DT, Southern Mississippi
98. Richard Rodgers, TE, California
121. Carl Bradford, LB, Arizona State
161. Corey Linsley, C, Ohio State
176. Jared Abbrederis, WR, Wisconsin
197. Demetri Goodson, CB, Baylor
236. Jeff Janis, WR, Saginaw Valley State
The one-two punch of Clinton-Dix and Adams in the first two rounds was a great combination. They'll both get plenty of playing time on the '14 Packers. With Adams, Abbrederis and Janis, Aaron Rodgers has a great set of new receivers; one should step in for James Jones as the third receiver.
Jermichael Finley's loss will be offset by the addition of Richard Rodgers. I'm also intrigued by the addition of Carl Bradford in the fourth-round. I assume they'll try to move him inside, and if that pays off, then they've filled out all their needs while never reaching for a player above their spot.
There's not a pick here that knocks you off your feet and makes your jaw drop, but this seems like every single pick was solid and filled a need. This is the draft of a serious contender.
San Francisco 49ers
30. Jimmie Ward, S, Northern Illinois
57. Carlos Hyde, RB, Ohio State
70. Marcus Martin, C, USC
77. Chris Borland, LB, Wisconsin
100. Brandon Thomas, OT, Clemson
106. Bruce Ellington, WR, South Carolina
129. Dontae Johnson, CB, NC State
150. Aaron Lynch, DE, South Florida
170. Keith Reaser, CB, Florida Athletic
180. Kenneth Acker, CB, SMU
243. Kaleb Ramsey, DE, Boston College
245. Trey Millard, FB, Oklahoma
The top rated strong-safety. The top rated running back. The top rated cornerback. The top rated fullback.
That's just a look for starters at the 49ers' draft class. While taking Ward with their first pick is a bit of a gamble, considering they have to move him to nickelback, from that moment on, the 49ers found value pick after value pick, filling all of their needs on the way.
Even the players who weren't the best at their position were great picks. If Bruce Ellington were three inches taller, he'd have been a first-round pick; as it is, he's a steal at the top of the fourth-round. Chris Borland may have small arms, but he was nothing but production at Wisconsin, and has a chance to get serious playtime due to NaVorro Bowman's injury.
At cornerback, they went with quantity over quality, hoping that one of their three late round picks will develop into an eventual nickelback. Add in Brandon Thomas, who will be put on the PUP list for a year, and the 49ers not only filled their needs for 2014, but drafted for the future, as well. And this isn't even including the trade for Bills receiver Stevie Johnson. A masterful draft class.
Indianapolis Colts
59. Jack Mewhort, OG, Ohio State
90. Donte Moncrief, WR, Ole Miss
166. Jonathan Newsome, DE, Ball State
203. Andrew Jackson, MLB, Western Kentucky
232. Ulrick John, OT, Georgia State
Perhaps I'm being a bit hard on the Colts, who lacked a first-round selection this year. However, the reason they were missing that selection was that they traded for Trent Richardson, who promptly averaged 2.9 yards per carry in Indianapolis, so it's fair to call that a waste. Consider that the best running back in this year's draft fell all the way to number 54—a running back just isn't worth a first-round pick anymore.
Jack Mewhort was a reach in the second round; several better linemen were on the board when he went off. Marcus Martin would have made much more sense. I'm not even entirely sure Donte Moncrief was the best receiver at Ole Miss. They didn't address their issues at safety, and they didn't add to the pass rush. They have some players that might develop, but on the whole, this draft looks disheartening.
New Orleans Saints
20. Brandin Cooks, WR, Oregon State
58. Stanley Jean-Baptiste, CB, Nebraska
126. KhairiFortt, OLB, California
167. VinnySunseri, S, Alabama
169. Ronald Powell, OLB, Florida
202. Tavon Rooks, OT, Kansas State
Moving up to get Brandin Cooks was fine. I have no issues with that; it fills a large need with the fastest receiver in the draft. Other than that, however, I think this draft has holes in it.
Jean-Baptiste is a developmental corner; he'll need work, rather than being plug-and-play. He's worth developing, but the Saints could have used someone to step in right away. They also needed an offensive tackle, and waiting until the sixth round may not have been the best way to solve that issue.
After the top two picks, there's nothing here that jumps out at you. Fortt and Powell were injured often in college and never were extraordinarily successful, while Sunseri and Rooks look like solid special teamers at this point. There's a lot of question marks here—they'll need three or four of their developmental prospects to succeed for this draft class to work out. Lots of low floors and high ceilings.
Carolina Panthers
28. Kelvin Benjamin, WR, Florida State
60. KonyEaly, DE, Missouri
92. Trai Turner, G, LSU
128. Tre Boston, S, North Carolina
148. BeneBenwikere, CB, San Jose State
204. Tyler Gaffney, RB, Stanford
They came into the draft needing a huge upgrade at wide receiver and offensive tackle; they lost Steve Smith, Ted Ginn and Jordan Gross in the offseason. They needed two pass-catchers and one starting tackle.
They got one receiver in Benjamin, but he was probably a reach at No. 28; he was more of a late second-round prospect, due to questionable hands. They added no one at tackle whatsoever.
They had good value picks elsewhere—Ealy's a steal down at No. 60, though he'll need to work to be an every-down defensive end in the NFL. I like the pick of Trai Turner at No. 92 a lot, as well. I'm just worried that they didn't do nearly enough to fill the holes they had coming in.