Little Red Machine
- By Matt Green
We all remember (or have heard of) The Big Red Machine. This Cincinnati Reds team is not as good as that team. Big surprise. However, this team is very good, and currently, they are the best team in the National League and are poised for a Division Title and a World Series run, especially in a weak NL Central.
Listen, we all remember what happened to the Reds in the 2010 NLDS against Doc Halladay and the Phils. They were no-hit for only the second time in MLB postseason history. This team is not that team.
To begin, Cincinnati's hitters are 2 years older and 2 years more mature. Joey Votto is the best first baseman in baseball. Try to argue with a .476 OBP, a 1.096 OPS, and 4 more walks than strikeouts. Secondly, the Reds have one of the best catching tandems in baseball, and possibly the best in the NL. Ryan Hanigan is hitting .296/.361/.370. His slugging numbers aren't quite there, but he has only struck out two more times than he has walked, and his defense has been fantastic. He has not allowed a single passed ball in nearly 300 innings of work, and has caught 9 of 21 base stealers, 39%. For reference, Cardinals catcher Yadier Molina, widely considered the best defensive catcher in the game today, has caught 10 of 26 base stealers, 38%.
Also, Brandon Phillips is getting his stroke back. For the first month of the season, when the Reds were struggling a bit, it just so happened that Phillips himself was struggling to get his swing right. Jay Bruce has finally turned into the power hitter that most scouts foresaw when he was coming up through the minors. Zack Cozart is an average hitter at shortstop, but if he keeps up the defense, his average bat will be just fine with the folks in Cincy.
Stubbs seems to be the only weakness in the Reds lineup. He has been leading off for the Reds for the majority of the season, but has a strikeout to walk ratio that would only be awesome if he were, well, a pitcher. After more than 200 strikeouts a year ago, Stubbs clearly has a propensity to swing and miss. He is, however, a heck of a defender covering center field at Great American Ballpark. He also has above average power, so a move down in the order seems like it would be a good idea for skipper Dusty Baker, but it remains to be seen if that will happen.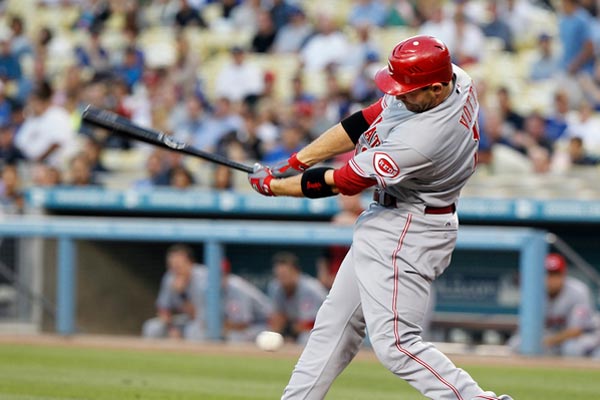 We could sit here and talk hitting and defense all day, but let's face it, pitching wins championships. And that is the area where the Reds are most improved. 2 years ago, Edinson Volquez and his 4.31 ERA started Game 1 of the NLDS against the Phillies. They currently have 3 starters whose ERA bests that of 2010 Volquez. Johnny Cueto continues to defy the odds with his 2.54 ERA, despite striking out just 6 batters per 9 innings. Clearly, the aforementioned defense behind Cueto is doing work.
Moving along. Bronson Arroyo is as steady as ever. A strikeout to walk ratio of almost 5 to 1 never hurt anyone, and being able to keep your team in the game in that way especially with an offense like he has helping him out is huge for a team entering a division race. Homer Bailey is throwing as well as he ever has, sporting a 3.73 ERA and striking out a similar amount of batters as Johnny Cueto.
Mike Leake is the next pitcher of note. After having a rough, rough start to the year, with his ERA vaulting as high as 7.11 after giving up 6 earned against Washington on May 11, he has worked that number back below 5, with 4 consecutive solid outings, 3 of which he allowed just 1 earned run in at least 6 innings. He seems to be coming around.
Mat Latos is the big question mark. He has a 4.91 ERA at the moment, not great for a guy that Cincinnati sacrificed their best young hitter for. Scary thing is, he hasn't shown any signs of coming around this year, but his past success in San Diego makes me believe that at some point he will get it together. It's never easy for a pitcher going from the ultimate pitcher's park to the ultimate hitter's park. Past success, though, shows that at some point he will come around. Either way, even if he is the 4th starter in a potential postseason rotation, that is about as good a 4th starter as a team can hope for.
Time for the bullpen. Ryan Madson was the Reds' second biggest offseason acquisition, but he went down with a torn elbow ligament before the season even started. Done for the year. Nick Masset is currently on the DL as well as Bill Bray. For a bullpen that has been wrecked by injury thus far in 2012, they have done a magnificent job of filling as they go. Sean Marshall started the season as the closer, and he's been good but not great. Jose Arredondo and Logan Ondrusek have been pleasant surprises, each carrying an ERA under 2.40. And then there's the phenom. The guy that you think, at some point, his arm will fall off while he's throwing a pitch. Aroldis Chapman throws so hard, it's scary to watch. Despite all that, Chapman's ERA is a healthy 0.00, having allowed just one unearned run in 28 innings of work, while striking out almost 2 batters an inning and allowing just 9 walks. An incredible turn-around for a guy who's only struggle in the past was his command. Only 7 hits in those 28 innings of work doesn't hurt either.
If there's anything we have learned from the past 2 World Series Champions (both from the NL), it's that pitching is what wins the title. San Francisco did it with their starting pitching led by Lincecum, and supported by Cain, Bumgarner and Sanchez. St. Louis did it with their bullpen. They had an incredible amount of bad starts for a World Series team, but their bullpen bailed them out time and again on their way to a 7-game World Series win. It doesn't matter how it gets done, as long as the rotation or the pen comes up big. The Reds have a solid rotation and a solid pen, and expect some help back in the pen in a month or so in the form of Nick Masset.
I know I can't sit here and say the Reds are for sure going to the World Series, or even that they will win the Central. With over 100 games left in the most unpredictable game of all, nobody can say with certainty that anything is a sure thing. What I am saying is that, if I were a betting man, which I am, my money is on this Little Red Machine to get to the Series, and have a legitimate chance to bring the title back to Cincy.