Major League Baseball: Breaking Down the Pittsburg Pirates
- By Matt Green
20 years is a long time. And for a fan base that has stood by loyally for that entire 20 year dry-spell, management owes them some effort. The Pirates have a solid minor league system, consisting most notably of pitchers Gerrit Cole, Jameson Taillon and outfielder Starling Marte, all of whom project as quite solid major leaguers. But this is not the time to look to the future, the time is now for Pittsburgh. Let's look at some guys that make sense for the Pirates.
MATT GARZA
The Cubs have been rumored as shopping Garza, who is under control through next year and would provide the Pirates a solid guy for a postseason rotation joining Burnett, McDonald, and probably Correia. The price for Garza would not be cheap. The Pirates won't, nor should they, part with prized prospect Gerrit Cole, so let's just forget about that right now. Jameson Taillon, however, seems to be a guy that is highly regarded around the league and a guy that could get the Cubbies in talks. The deal would no doubt have to include Marte as well, and that's where it gets tricky for the Pirates. But, when you look at the current roster, Andrew McCutchen projects to keep that CF job as long as the Pirates are willing to pay him. McCutchen is only 26, so his age makes Marte expendable.
Finally, the Pirates would probably have to throw in one more guy, probably more of an upside kind of guy that could entice Theo Epstein. There have been rumblings that Epstein and the whole of the Cubs organization are not as sold on Starlin Castro as the rest of baseball seems to be, He doesn't take pitches, he doesn't walk, his OBP is a disastrous .309 to a .282 average. I know he is only 22, but still. Alen Hanson, a shortstop in A ball, is an interesting option. He is 19, and is putting up numbers similar to Bryce Harper at that level, and numbers better than current #1 prospect in all of baseball, Jurickson Profar, put up at the same level. Those 3 would almost certainly be able to net them Matt Garza, and, if not, the Cubs asking price is way too high and unrealistic.
JOSH JOHNSON
This one is a little bit more costly to the Pirates. I don't know that it would absolutely require Gerrit Cole, but given the fact that Johnson is still relatively young and is capable of being one of the best starters in all of baseball, it would no doubt require at least 3 of the Pirates top 4 prospects. A package that includes Taillon/Marte/Hanson and maybe another young but raw talent in Luis Heredia could be something the Marlins consider as they are really trying to restructure their franchise. The kid is only 17 but many scouts like him and believe he could be a top-of-the-line starter at some point in the bigs.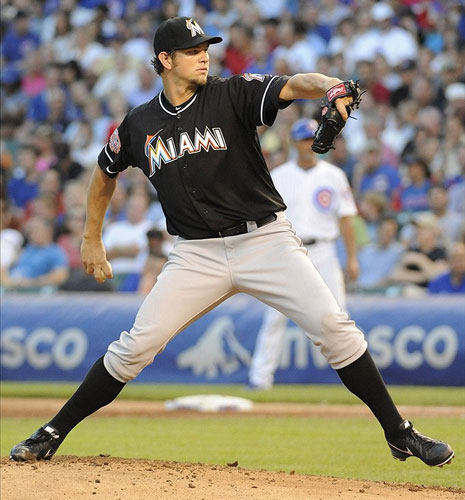 With the recent acquisition of Jacob Turner from Detroit, bringing in Taillon and Heredia gives Miami the possibility of a fantastic rotation at some point in the relatively near future. Marte projects as a fantastic every day CF and Hanson could be one of the top guys up-the-middle in all of baseball by the time he figures it all out. It's a start, at least, to acquire Josh Johnson, who would be invaluable to Pittsburgh and would instantly upgrade that staff into a playoff-caliber rotation.
WANDY RODRIGUEZ
Wandy is a lesser caliber pitcher, but still has the ability to get guys out and definitely has some left in the tank. Since 2008, Wandy has never had an ERA below 3.60, but at this point, it sits at 3.79. However, for a lefty in Minute Maid Park, nothing is easy facing right-handed batters with those Crawford Boxes seemingly creeping up on the infield. The even better thing for Pittsburgh is that Marte may not be required. Houston no doubt wants to get rid of Wandy soon, not wanting to pay the $13 million he is owed in 2013. Taillon and simply one younger guy like a Hanson or Heredia would easily get this deal done, and it would give the Pirates a guy who is almost guaranteed to start every 5th day and will keep his team in the game every time out.
Not to mention, Wandy seems comfortable in PNC Park, having thrown 8 innings of 1-run ball there in May. I'm not saying he's going to dominate, and he definitely is not Johnson or Garza caliber, but he's a reliable guy that can get outs and help you win games, and in a pennant race, isn't that the most important thing? He also is not nearly as costly as either of the other two.
Look, none of these deals are perfect and it's always tough to give up top prospects to attempt to contend in a year where you may or may not even get in, then you've wasted your prospects. All I'm saying is that ownership owes this fan base in Pittsburgh an attempt at a playoff spot. 20 years is far too long, and it's time to get back. Go Bucs!