Mike Trout Should Be AL MVP
- By Matt Green
The other day my friend asked me if I would rather start my team with Bryce Harper or Mike Trout. I thought about it for a second, and without any statistical affirmation, I said Mike Trout. And then I looked at the stats. Mike Trout for MVP anyone? Let's investigate... (all stats as of June 25)
Trout was brought up about a month too late from AAA, as Scioscia and the Angels organization was trying to give an overpaid veteran outfielder one last chance in LA before they went with the kid. Bad decision. Before the kid was called up, the Angels were far below their expectations, sitting at 6-14. Today, after 51 games from Trout, the Angels are 40-33, and are just 5 games back of the Rangers in a division race that looked like it was over a month or two ago. Sure, it may be a stretch to say a leadoff hitter should be the MVP, especially since he missed almost an entire month of the season, but let's just look at the hard facts.
Since Trout got the big leagues in 2012, the Angels have gone 34-19, reversing their fortunes in the AL West and bringing them back to playoff contention midway through the season. When a team is just 6-14 before you get there, and wind up 34-19 after you've been there for 51 games, you're doing something right. And Trout is doing something right. Look, I understand what the MVP is all about. It's all about driving in runs and hitting homers and being effective in that way. But isn't that a little biased? In my opinion, the MVP should go to the guy on a playoff team that would not have reached the playoffs without that guy. Trout is a perfect example.
Exhibit A: He creates RBI opportunities for the stacked middle of the Angel order.
First of all, Trout is getting on base at an incredible rate for a 20-year old. His on-base is sitting at a solid .399, but his average is still .338, with his slugging at .531. He's providing power, gap power, taking walks, and, lastly but certainly not least, he's stealing bases. He's 21 of 24 stealing so far this year. Every base he snags is another opportunity for Pujols and Morales and Kendrick and Trumbo to get those precious RBIs. This idea is clear in that, through 51 games, Trout has scored 43 runs, showing that he is getting himself in great position to score no matter how he does it. Whether it be with doubles(13), triples(3), home runs(7), stolen bases(21), singles(47), or walks(21). To put all this in perspective, possible AL MVP Josh Hamilton's numbers are as follows, and keep in mind that Hamilton has played 15 more games.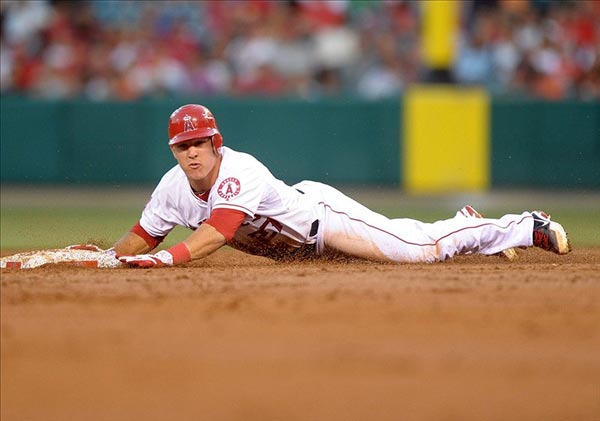 Hamilton has 22 homers, 6 SB, just 15 doubles, 1 triple, 81 hits, an average of .319 and an OBP of .380. Okay, so his OPS numbers are out of this world at 1.025, but I'm not sitting here saying Josh shouldn't be the MVP, just that his numbers aren't that much better than Trout's despite playing 15 more games. I mean, obviously, they are not the same player, one is a 3-hole hitter and one is leadoff, but it's still shocking looking at some of the similarity in their numbers. Trout has just 29 RBIs, but that has everything to do with him being a leadoff hitter and the Angels dreadful bottom of the order. Note also that Trout's WAR in just 51 games is 3.7. while Hamilton's is just 3.1.
Exhibit B: Center Field becomes a black hole for opposing hitters.
I could throw a bunch of fielding stats and splits and sabermetrics and what have you at you right now that you don't understand, and, frankly, are sometimes a little over my head, but I'm not going to do that. All I will say is that you need to watch an Angels game and just watch every fly ball to center. The range, speed, instincts and athleticism of Trout allow him to get to an absurd amount of balls, sharply hit or softly hit, it doesn't matter. I can't really sum his absurd fielding ability with stats or a description, all I can tell you is that you need to watch a game with him in center and find out for yourself.
There will be more to my argument as the season moves along, but for now, the fact that Trout's WAR is higher than Hamilton's and the fact that Trout's team is 34-19 since his promotion should say enough. It's still early, too early to talk MVP, but Trout should be a no-brainer All-Star, and needs to start being amidst MVP talk, and, maybe I sound crazy, but I firmly believe that Mike Trout is the best player in baseball. Prove me wrong.