Red Sox vs Devil Rays in 2011
Here we stand just one week into the Major league season and two of the teams projected to be among the leaders in their division and who were expected to compete for playoff spots are scheduled to face-off with a combined record of 3 wins and 15 losses. Yes, I am talking about the 1-8 Tampa Bay Devil Rays who are in Boston to take on the 2-7 Boston Red Sox for an early season three game series. These two teams have a lot in common to start the 2011 season, but unfortunately its things neither of them want to share in.
Both teams were swept in their season series openers. Tampa Bay lost three straight at home against the surprising division leading Baltimore Orioles, who are 6-3 to start their 2011 campaign. Boston started the season on the road and lost three straight against the defending World Series champion Texas Rangers, who sport the best record in the entire American League at 9-1. Both teams then went on to be swept in their second series of the season. The Devil Rays dropped both games at home to the Los Angeles Angels while The Red Sox went to Cleveland and lost another three straight.
Both Tampa Bay and Boston got off to the same exact 0-6 start to this season and ironically, they both won their first game of the season on the same day, April 8th. Boston's first win was at home against the hated Yankees while Tampa Bay went to Chicago and beat the White Sox for their first victory. So, what looked like an early season series among potential division leaders is now an early series among division basement teams and unfortunately, for one of them, losing is going to go on a little while longer.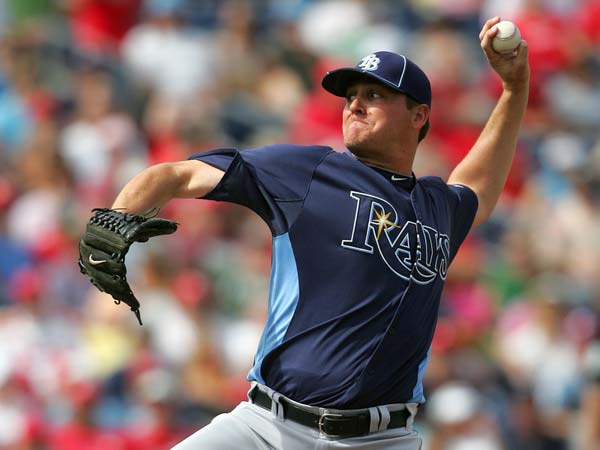 This series is shaping up as a battle of conflicting problems. Tampa Bay has struggled with scoring runs this season. The Devil Rays have only scored 20 runs all season, which comes to an average of about only 2 runs a game. In fact, almost half of Tampa Bay's runs scored this season came in their lone victory this year, 9-7 against the White Sox. Boston, on the other hand, has had its problems with allowing runs this season. The Red Sox have given up 53 runs to opponents for an average of 5.8 runs per game. Boston has allowed less than five runs scored against them only three times this season.
Something will definitely have to give when both teams meet this week. It is kind of sad to think that these two teams just met to decide the 2008 American League Championship just barely over two years ago and now they are meeting with last place in the division on the line. There is a wealth of players on both teams still around that competed in that 2008 playoff series and both managers are still managing these two clubs, but neither of them currently resemble the teams we saw back then.
There is still plenty of time for both teams to bounce back and both are very capable of running off on double digit game winning streaks and turning their respective seasons around. All of us could close our eyes for a few minutes and envision both teams suited up and playing for the 2011 American League Championship at the end of this season, but for now we have to keep our eyes open and see both of these teams suited up and competing for who isn't going to be in last place to start this season.