San Francisco Giants Are Nolonger the National League Favorites
- By Aaron Sass
It's been a rough couple of weeks for the San Francisco Giants as they've gone 5-9, including last night's loss to the red hot Kansas City Royals. This has taken them from being the sportsbettingprofessor.com betting favorite to win the National League title to a mere contender.
One of the main problems for the Giants has been pitcher Tim Lincecum, as he's having one of the worst seasons of his career. If you're familiar with the Giants, then Lincecum's struggles are nothing new to you. Giants fans have seen the former back to back Cy Young winner diminish into a below average pitcher over the last 3 seasons.
Lincecum currently holds a record of 9-8 with a 4.51 ERA. Opponents batting average against Lincecum is tied for the second highest in his career at .248, which is the exact average opposing batters had against him last season. The only average that's worse than that was two seasons ago when opposing batters had an average of .257 against him.
What's killing the Giants chances of following their recent tradition of winning the World Series every other year is their pitching. Their two former aces Tim Lincecum and Matt Cain have struggled over the past two seasons. Cain has had injury issues while Lincecum just isn't the same player anymore. So the question is, is it finally time to tear it down and rebuild?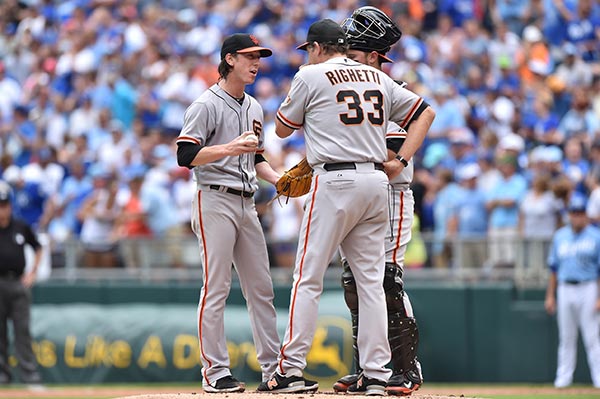 The surprising thing about the Giants, and why some fans would say it's not time to go in a different direction is that as of now, despite their struggles, their only 4.5 games behind the Los Angeles Dodgers in the National League West. The Giants still have a very good record and could pass as one of the best teams in the National League. However with two of their star pitchers not really being stars anymore, it's hard to believe that they can hold on for very much longer.
No team's success lasts forever, and the Giants are definitely no different. It's always hard to let go of the players that helped you win those two World Series championships, but at a certain point you have to admit that those guys aren't capable of getting you their again. Time can tell you everything, and 3 straight years of struggles from Lincecum and two years of struggles from Matt Cain tells you that they're not going to get any better in the future, as they're not getting any younger.
The Giants still have an abundance of great talent that can help them in the future. And if the Giants can upgrade their pitching rotation in the immediate future then they'll be okay. But the inconsistency in the rotation is killing them. But if I were in charge of the Giants and the team failed to make the playoffs this season, then I'd either see what Cain and Lincecum's value of the trade market was, or I'd tear it down and rebuild.
As I mentioned before, the Giants are only 4.5 games down in the NL West with 40 plus games left in the regular season, so there's still plenty of time for them to get hot. However, I'm not certain that they will, and they'll most likely be sitting at home in September and October.
Of course, you can always check out Dafabet Sports to see what they think.