Should the National League Have Designated Hitters?
By Matt Green
136 years is a long time. A LONG time. The automobile was not even invented 136 years ago and the country was just recovering from the Civil War. That's the Civil War. The one between North and South fought over slavery and state's rights. Suffice to say, it's a long period of time. In that 136-year span, the National League has made minimal changes, and the Designated Hitter has never been accepted into the NL way of life. But it's a new age, a new generation, and the talk is underway.
Due to recent pitching dominance, including 2 perfect games and 3 more no-hitters, not to mention R.A. Dickey's back-to-back 1-hitters, talk of instituting the Designated Hitter rule in the NL. And you're here to find out what I think about the potential move. And if you aren't, I'm going to tell you anyway.
I'm a fan of tradition. I'm a Texas A&M football fan, so I have to be. Ironically, Texas A&M was founded the same year as the National League, but that is neither here nor there. I understand the new generation who wants to see more offense and more runs and more homers, all contributing to what they see as more excitement. But that is fleeting excitement. A 10 to 8 game is not what baseball is about. It's boring. When runs are scored easily, and multiple homers are hit in a game, it takes away the strategy, the little things that make baseball what it is. Baseball is sacrifice bunts to get your man into scoring position and pulling the ball to the first basemen so your leadoff double can advance to third for a possible 1-out sac fly. Baseball isn't about the homers and the craziness, the enjoyment is in the details.
Don't get me wrong, I love a homer-riddled game every now and then, but we get plenty of those as it is. The Mariners, with the worst offense in maybe the world, scored 21 runs against Texas. Okay, they had the DH in effect. Even the Padres, with the actual worst offense in the world have had offensive outbursts of 8 and 9 runs this season. The offense is there. We live in a culture of overreactors and non-traditionalists, and that's okay, but we cannot let them win every time.
The National League is a great and necessary part of the game today. Interleague ruined it a bit, as the old intrigue was that the AL and NL had not played all year until the World Series, but the mystery and intrigue still holds. The DH rule is fine for the American League, but don't bring it to the NL and dilute and change everything the game has been about for the past, well, 136 years. Bud Selig is a traditionalist himself, so I can't imagine he will allow it, but I will plead my case anyway.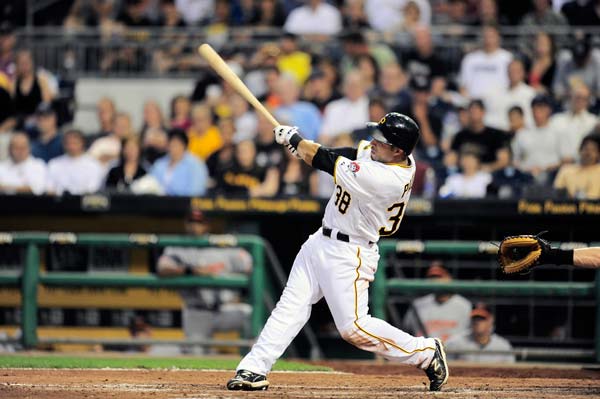 Pittsburgh Pirates right fielder Xavier Paul (38) hits in an RBI during the fourth inning in Interleague play between the Baltimore Orioles and the Pittsburgh Pirates at PNC Park in Pittsburgh, Pennsylvania.
---
I had a friend tell me once that National League baseball is "stupid" because all you have to do is "pitch around someone and get to the pitcher and it's over." That is true to an extent, but that is simplifying a game that cannot and should not be simplified. Sure, two outs, man on second, 8-hole hitter coming up in the 2nd inning, the defense is no doubt going to either IBB or pitch around that #8 hitter and get to the pitcher, but that doesn't make the NL stupid or less interesting. I mean, that would entail walking that number 8 hitter who has no business getting walked. It's quite entertaining watching Logan Forsythe get intentionally walked.
And then there's the double switch. Double switches are great, and the DH rule would all but completely ruin the idea of the double switch, and a pitcher winding up hitting in the 3-hole if the game goes to extras. And then it just becomes insanity. It involves strategy that breeds great managers. Running out a pinch-hitter so the defense won't walk the 8-hole hitter, but knowing the whole time that the pitcher is going to hit. Managing won the Cardinals the 2011 World Series because Ron Washington has only ever managed in the AL, and, despite a few years of interleague play and one previous World Series appearance, he still was not able to come up to the level of Tony LaRussa, and was demolished in the managing aspect of the Series. Don't believe me? Washington pinch-hit Esteban German instead of Mitch Moreland at one point in game 2. I know Moreland is no world-beater, but come on.
People are overreacting to the recent pitching dominance, trying to change a 136-year old institution. Look, pitching dominance happens, but the hitters will adjust. It's a vicious cycle. Don't jump largely one way or another, because it will always change. I heard an argument that a Perfect Game used to be extremely rare and a great feat, but since 4 have happened in the past 3 years, it lessens the uniqueness and specialness of a perfect game or no-hitter. While that may be true, I don't believe that adding a DH is the answer. I mean, one of those perfect games happened in the AL this year, so clearly that's not the problem. No, forget the DH, just lower the mound or something. To drastically change a League that is 136 years old is just heresy.
---
What do you think?

We'd love to hear your comments and/or opinions. If you submit them here, other visitors can read them, rate them and comment on them. An e-mail address is not required.
---
From Should the National League Have Designated Hitters to MLB History | Baseball Blog | MLB Articles | College Baseball Articles | Junior College Baseball | Major League Baseball Blog | Minor League Baseball Blog | High School Baseball Blog | International Baseball Blog | Fantasy Baseball Blog | MLB Baseball Forum | College Baseball Forum | MLB Ticket Bargains | NCAA Baseball Tickets | MLB Baseball Apparel | College Baseball Apparel | Baseball Blog Questions |
---
Home Page
About Us | Contact Us | Site Search | Advertise | Terms of Use |
---