The Truth About the Texas Rangers' Front Office
- by Matt Green
In an offseason where the Texas Rangers Front Office has received more flak than any other around baseball, I'm here to be the voice of reason amongst the angry mob.
Jon Daniels and his fellow staffers have been under constant fire from the Dallas and parts of the national media since they let Josh Hamilton sign with the Angels. But let's get real for a second. Daniels and his staff obviously didn't plan for this to happen (or did they?), but I certainly don't think they are in any way surprised that everything happened.
They missed out on Greinke. Not much they could do there. The guy wanted money and apparently the Dodgers are willing to give as much of it as anybody wants.
They missed out on Hamilton because they weren't willing, and rightfully so, to go to a 5th guaranteed year for a guy with a history of off-field issues and injuries.
They missed out on Shields because Dayton Moore was willing to part with way too much to get him.
They missed out on Dickey because they weren't willing to give up 3 MLB-talent prospects for a 38-year old pitcher.
They've missed out on Upton (so far) because they aren't willing to part with either of their young shortstops. So this is where the proverbial "rub" lies: Are the Rangers overvaluing their prospects?
In one word: no. But in more words, I'll spell this out so the skeptical folks can jump on board.
In 2010, the Rangers were in contention to reach the postseason for the first time in a decade. Jon Daniels, in one of the greatest moves a DFW-area GM has ever made, pulled a Cliff Lee deal that sent stud pitching prospect Blake Beavan and first baseman Justin Smoak, considered to be one of baseball's top hitting prospects, to Seattle for just two months of Lee that turned out to be three.
In 2011, he sent away Chris Davis, Tommy Hunter and pitching prospects Robbie Erlin and Joe Wieland for relief pitchers. Davis had already had a Major League impact at times, and Tommy Hunter had been in the playoff rotation the year before. And, while neither Wieland nor Erlin were projected to be front-line MLB starters, both were definitely viable MLB pitchers down the road.
In 2012, Daniels again made a deadline trade, this time getting Ryan Dempster for Kyle Hendricks, a lesser prospect, and Christian Villanueva, a really good third base prospect. And that deal was only for a 2-month rental of a guy who may or may not have been a huge help.
Point is, Daniels doesn't overvalue his prospects by any means. It simply looks that way because he has a lot of resources. The Rangers have money. The Rangers have prospects, but their unwillingness to part with them has nothing to do with greediness or cockiness, as some DFW area writers said, but it has everything to do with knowing how to run a franchise.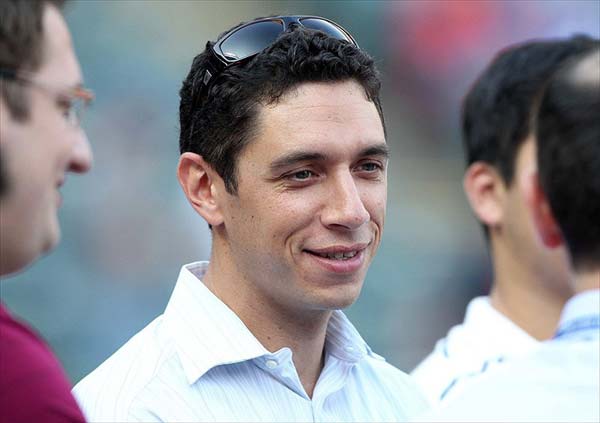 Prospects are the lifeblood of the sport. Simply buying guys in free agency and selling the farm in trades doesn't keep a sustainable franchise. Many GMs talk about "windows" and the fact that a teams window for winning might be right now, so they need to bring in the best established talent they can right now and give away their farm system. That was the Toronto Blue Jays plan, apparently. Also the Royals. Also the Angels.
Jon Daniels has a different approach to this whole thing that the casual fan may not see, but that those close to the game who know the game marvel at. It's not all about this year. But it's also not all about the future. Guess what, like it or not, the Rangers, whether they make any more moves or not, will put out a competitive team in 2013. Will they make the playoffs? A lot of things will have to go right for that to happen.
But guess what else? They will be back the next year. And the next. And the next. And the next. And the, you get the point. Can they Angels say that? Can they say that with their worst-ranked farm system in baseball when they're paying Josh Hamilton insane amounts of money in 3 years and paying Albert Pujols $30 million a year when he is 41-years old.
Andrew Friedman, Billy Beane and Jon Daniels are the GREAT minds in baseball today. They are the guys that keep teams competitive year after year with lower payrolls than the rest of baseball. If you understand baseball, you know the feat these guys accomplish year after year.
Jon Daniels has not failed this offseason. Far from it. Jon Daniels has succeeded in not caving to unrealistic demands and teams trying to pry away the best prospect in baseball. Mike Trout was a prospect once. Albert Pujols was also. So was Hamilton, and Greinke, and Upton. Will all these guys the Rangers are hoarding wind up to be as good as those guys? Probably not. But hell, won't it be fun to watch if they do?