Why Chipper Jones Won't Retire This Year?
Since the beginning of this year's spring training, Chipper Jones has been insisting that this will be his last season as a pro ballplayer and Atlanta Brave. He claims he is too old and won't have enough of a positive effect on the team if he only plays in 100 or so games. This would be true...if he weren't Chipper Jones.
Chipper Jones will have an impact on the game of baseball for the foreseeable future, whether actively or passively. He has inspired kids from over two decades to pick up a bat and dream about themselves hitting in the big leagues...from both sides of the plate. Personally, as a five-year-old, I remember hitting for hours on end lefty and righty as well as taking countless numbers of ground balls so I could grow up to be Chipper Jones. Chipper has been an ambassador to the game and, more importantly, an ambassador of the switch-hitting technique.
As a young child, Chipper always heard about the grandeur of Mickey Mantle because, as he puts it, "'...[my father] was one of the biggest Mickey Mantle fans ever. Mickey was his guy.'" Chipper became engulfed into Mantle fandom and sought to be a switch hitter like his and his father's hero. Clearly, Chipper learned the trick of Mantle's trade pretty well and is now playing the role of Mantle to a generation of young boys just like Chipper.
Being the greatest switch hitter of his era has done nothing but humble Jones. On a recent tour of Monument Park in Yankee Stadium, Jones "'got chill bumps three or four times.'" He marveled at the weight of Babe Ruth's bat and reminisced about some of his favorite Mickey Mantle memorabilia as a kid. His respect for the greats of the game, even after all that he has accomplished, is worthy to be noted. In the clubhouse and on the field, Chipper has mentored many of the young players in the Braves farm system as well as young players from around the league.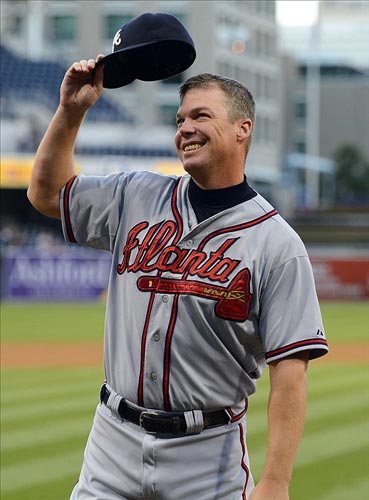 From the maturity of Jason Heyward as a hitter to the respect (and Allstar vote) of Bryce Harper, Jones has influenced many youngsters. However, Chipper's influence is not only felt around the majors but also the sandlots. Whether it be switch hitting, moving to another position for the better of the team, or showing compassion for others through his charity, Chipper Jones has become an ideal role model for any boy who is in love with baseball.
Although the majors won't be the same without him next year, Chipper Jones will have bettered the game by playing in his 19 seasons. He brought with him an influx of switch hitters and increased the importance of baseball in the South (Braves country). His abilities and accomplishments will eventually land him in Cooperstown, but he means so much more to the game than just a plaque on a wall in a museum in Cooperstown, New York.
What Others Have Said:

Hey whoever wrote this story, Chipper Jones will retire. he can't even play a full game not the less play a full week. this will be it for him. i hope he leaves gracefully. he mentioned that he might be a sportscaster after retiring.

- By Kavin (Georgia)

---

I agree that Chipper will retire this year, but this article isn't about that. Its about how his INFLUENCE on the game will not retire.

- By Jackson

---

The point is yes, Chipper will retire from playing the game, but his influence will still be felt for years to come for anybody who loves the game. Great article!

- By Anonymous