Why the Texas Rangers Should Not Resign Josh Hamilton?
- By Matt Green
Josh Hamilton is having one of the best seasons in the major leagues, leading the majors in RBIs and accumulating an OPS that is just absurd. So, naturally, the Rangers should not re-sign him to a long term deal. Here's why:
(NOTE: Disregard this column if the Rangers can sign Hamilton for 3 or fewer years.)
First of all, the Rangers have enough depth that re-signing Hamilton is not as big a priority as many national baseball pundits would try to make you believe. Who would step in to the three-hole if Hamilton was gone? I believe that that is the last concern of the Rangers management. There's Kinsler, the obvious choice, a guy who has power, is incredibly selective and is a doubles machine. Then there is Beltre, a guy who has power, but also provides the ability to drive the ball to all fields with power. There shouldn't be a problem finding a suitable replacement in the three-spot. If they did take Kinsler out of that lead-off spot, they could throw Andrus in there, Martin in there, Gentry in there, or platoon Gentry and Martin, I don't know, they would find an effective way to get it done.
Secondly, the Rangers have a lot of money these days, but between their investment in Yu Darvish (which has been well-worth it), their investment in Adrian Beltre (worth it) and the fact that in three years, Clayton Kershaw is going to become a free agent, and will definitely consider a return to the metroplex. So, if they re-sign Hamilton to anything more than a 3-year deal, assuming they're giving him, figuring conservatively, $20 million a year, they would become a franchise that is not able to spend their money where they want, especially at their strongholds in Latin America (where the ridiculous new CBA states that there is a cap on what teams can spend which will hamstring Latin American-minded teams like Texas).
Next, the health and fragility of Josh Hamilton has been well-documented over the past 3 or 4 years, and, obviously, it has to be on this list. Since 2009, Josh has never played more than 140 games in a season, although he is on pace to come close to that this year, barring an injury. However, he is going to be 32 near the beginning of next season, and his body seems to be beaten down from the years of drug abuse. Point is, it's hard to pay a guy around $20 million a year to only play in 75% of your games.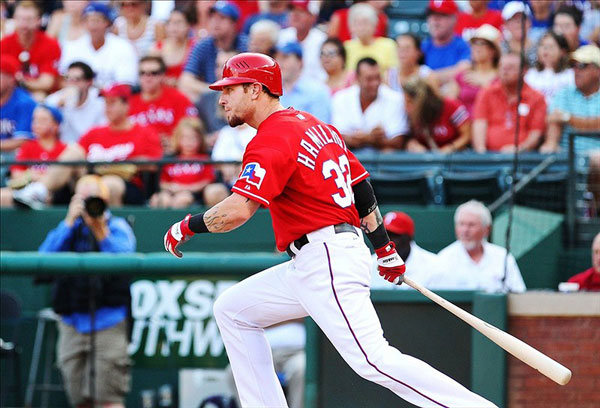 Finally, the Rangers system depth is just ridiculous. First of all, we have seen the impact and potential of Leonys Martin since he came up from Triple-A. Also, the Rangers' system contains two of the top infield prospects in baseball in Jurickson Profar and Mike Olt. Olt, a third baseman, played in the outfield over the weekend for the first time in his minor league career, showing that the Rangers are attempting to move him to the outfield, giving them more depth out there and a solid right-handed power bat. Obviously, none of these guys projects to be as impactful as Josh Hamilton, arguably one of the top hitters in baseball today, but the depth of the Rangers system would no doubt allow the Rangers to save a bunch of millions of dollars and still have a nice lineup, adding the power bat of Mike Olt to the outfield.
I can't sit here and say that it will be an easy decision for Jon Daniels and the Rangers front office. Letting the team's most popular player go on the free market is an incredibly tough choice. The guy is the face of the franchise and the guy that, every time through the order, strikes fear in the opponent's hearts. But, in the interest of the franchise and the future, offer him arbitration, take the compensatory draft picks and keep your options open.