Cliff Lee Proves Wins are a Poor Pitching Metric
The movement against Wins as a stat has become an accepted part of baseball. Sure, getting 300 wins is impressive. 20-win seasons are rare because it is tough to do. But wins are simply too era-dependent to tell a reliable story for a given pitcher. In other words, Cy Young could win 511 games because he played in an era that did not utilize relief pitchers, not to mention starting pitchers threw more often, thereby giving him more opportunities to win.
Wins are also drastically team-dependent. Average pitchers can win a lot more games in a given season if they play on teams with high-scoring offenses. The recent example of this is Ivan Nova, who went 16-4 last year with the Yankees. Nova had an ERA of 3.70, 4.01 FIP and a FIP- of 96. Translation: Nova was aggressively league average in peripherals. It is hard to model what his win-loss record should have been but considering the average ERA and FIP numbers for pitchers with 100+ innings pitched were 3.95 and 3.93 respectively. (Extreme side-note: using a Pythagorean Win Theorem here is not correct. If you, like me at first, attempted to use that to find an expected/corrected win-loss record, please consult me on why that is a wrong application of the PWL tool.) Comparable data shows Ervin Santana with a 4.0 FIP and an 11-12 record. Zach Britton had a FIP of 4.0 also and an 11-11 record. A FIP of 4.1 got Carl Pavano a record of 9-13. All that to say this: win-loss records can tell us something but more often than not, it tells us who plays on a better team.
And then we have poor, poor 2012 Cliff Lee. Through his start on Saturday, he has a 0-3 record in 11 games pitched. In 77.2 IP, he has a K/9 and BB/9 of 9.42 and 1.66. His FIP is 2.99, while his xFIP is 2.67. These are not stats of someone you would expect to be win-less through mid-June. A studious review of his game logs show the problem: the Phillies have an anemic offense that has not provided much run support. Notable games include: throwing a 10-inning masterpiece against the Giants but not getting the decision as the Phillies lost 1-0 in 11 innings.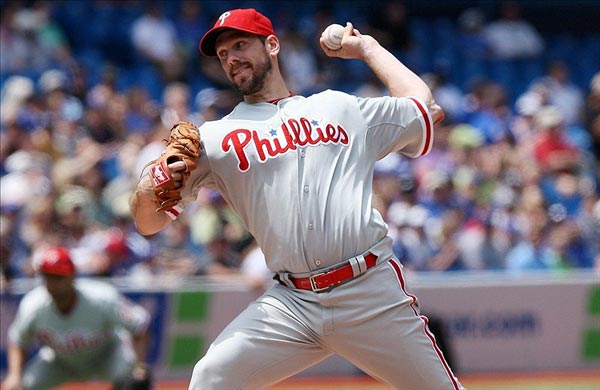 Or, the May 15th game against Houston where he went 8 innings, struck out 10 and gave up one run, yet the Astros scored two runs after Lee left the game to tie the game up and force extra innings. In fact, 7 of his 11 starts have seen Cliff Lee leave the game with the game tied or the Phillies ahead. He lost to the Dodgers 2-1. He has not been chased out of the game before the 6th inning. Put all these facts together and you get: Cliff Lee getting extremely unlucky.
Turning to Run Support numbers, where does Lee find himself? He has gotten 24 runs in support so far this season. Compared to starting pitchers with enough qualified innings, this places him 3rd to worst, behind EdinsonVolquez and Anibal Sanchez. To add insult to injury, those pitchers have won 2 and 3 games respectively while carrying FIPs of 4.31 and 3.21. In case you care, Ricky Romero has gotten 69 runs of support, has a FIP of 4.79 and is 7-1. Wins definitely do not paint a complete picture of individual talent. Cliff Lee stands as a shining, if not unfortunate, example of why Wins need to be viewed as only a part (a very, very, very small part) of the evaluation of pitchers.
Check out this great new baseball pitching metric. It seems to take pretty much everything into account.